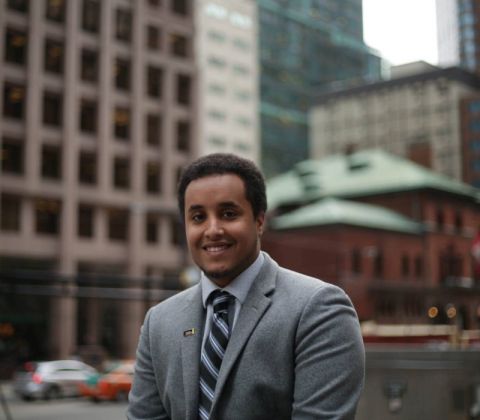 Nasrudin Mumin, Law'21, is one of the school's latest Black student leaders. He is President of the Black Law Student's Association-Queen's Chapter and one of three Black students serving on the Anti-Racism Working Group. From his particular vantage point, he talks about his chapter's initiatives, the importance of the working group at a critical time, his ideas on how to increase Black representation in law schools and in the legal profession, and why prospective students should choose Queen's Law.  
What attracted you to Queen's Law?
What attracted me to Queen's Law was its reputation as a top law school, its International Law Programs at the Bader International Study Centre (the "Castle"), and its tuition costs compared to other law schools in Ontario. Moreover, I heard about the strong Queen's alumni network and I wanted to go to a university where I knew no one who had attended previously to force myself to meet new people.
What has BLSA-Queen's done so far this year and what are your plans for the rest of the term? 
I got involved in the Queen's University chapter of the Black Law Students' Association in my first year. Since then, the group has grown from approximately three members to nine members and counting this year. Most of the efforts of BLSA-Queen's this year have been centered around the Anti-Racism Working Group and increasing membership amongst our Black identified 1L and 2L law students.
This semester, we are planning a student-led panel for prospective Black law students on why they should choose Queen's Law. Moreover, for Black History Month, we are doing a series of posts on our Instagram account about why Black history and law are important to BLSA members and we will highlight prominent historical Black lawyers in the Canadian legal profession. For more information, please follow us on Instagram @blsaqueenslaw.
What are you doing in your role on the Anti-Racism Working Group?
My role is to bring a Black student's perspective to the working group in terms of how to address issues of systemic racism within the confines of legal education at Queen's University. One way I helped bring that perspective was addressing the issue of low enrolment numbers of Black law students at Queen's University. As the only Black law student within my graduating class, I knew it was pertinent to address this issue. 
The working group advocated for the introduction of a separate application stream for prospective Black law students. It was approved in the fall semester and will be implemented in the 2021-2022 application cycle. Moreover, the members and I also believed it was important for Queen's Law to provide more legal education on anti-Black racism within the school's law courses. For instance, the working group was recently able to help successfully implement extending the Racism and Canadian Legal Culture course to a full term.
What would you say is the importance of this working group amid this period of social friction and change?
The working group I believe is the first time Queen's Law has gathered members from diverse stakeholders (faculty, staff, students, administration) of the law program, to come together and formulate partnerships with external organizations, and bring recommendations to help address anti-Black systemic racism issues in legal education. This is an important first step because it shows the law school is taking this issue seriously and is a priority. I do want to mention that it is not the first time that students and members of the Queen's Law community brought some of these systemic issues to light. Hence, although the working group has the potential to be a catalyst and help spearhead addressing longstanding systemic racism issues in legal education, the successful implementation of our recommendations at the end of this academic year can only occur with support from the law school administration. I am optimistic that the working group's findings will have this support.
How do you think Black representation can be increased in law school and in the legal profession?
In the fall semester of 2020, I wrote an essay in (adjunct Professor) Dhaman Kissoon's course on Racism and Canadian Legal Education. There, I provided a few key recommendations on how to increase Black representation in law school and the legal profession. First, to determine the scope of the issue, more race-based data is needed to be collected to accurately illustrate the extent of anti-Black systemic racism in the legal profession. All relevant stakeholders, from law schools to provincial and territorial law societies, must commit to this. 
Second, there should be a better method to ensure all law firms implement objective recruitment and selection criteria for new hires. At the judiciary level, provincial and federal governments must commit to appointing BIPOC members of the judiciary who are representative of the Canadian population. Last, at the law school level, affirmative action and support programs must be implemented to increase Black enrolment in law schools. Some examples include having a separate stream for Black applicants and offering a bursary based on financial need to Black Law students (the "Cecil Allan Fraser Bursary"). I am proud of Queen's Law for approving these recommendations this past academic year.
What would you tell a Black prospective student who is considering applying to Queen's Law?
The only way to increase Black law student representation at Queen's is to take the first step and apply. At Queen's, there is a community for Black law students, and it is growing. Moreover, the support of the alumni network at the law school is something that cannot be understated. At the end of the day, Queen's Law will open your door to a diverse array of legal fields. To learn more about the Black law student experience at Queen's, I encourage you to attend the BLSA-Queen's student panel on "Why Queen's Law?" on March 10 from 5:00 pm to 6:30 pm.