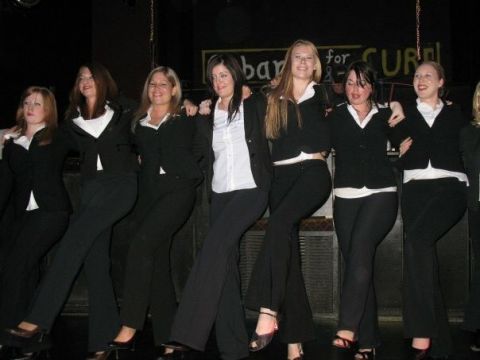 "Life is a cabaret," as the song goes, certainly rings true for Queen's Law every March. That's when students, faculty and staff come together for an evening of homegrown entertainment – and students' biggest charity fundraiser of the year. 
How did this extravaganza that helps the Canadian Cancer Society all begin?
Cabaret for a Cure was the brainchild of Elle Morris, Law'08, 12 years ago when she was co-president of the Queen's Law Cancer Society (QLCS). "I named it after my love of the musical Cabaret," recalls Morris, now Managing Counsel and Vice-President of BNY Trust Company of Canada in Toronto. "The opening number was Liza Minnelli's version of Welcome to the Cabaret, and we were all in suits with canes and top hats."
Before then, QLCS's event was a fashion show. Morris and her QLCS co-president, Lucy Wells, Law'08, turned it into a broad dance production. "Even though it was a fairly significant time commitment and we were asking students to perform in front of their peers, people volunteered to be a part of it, so they could support the cause," says Wells, who is now a Workers' Adviser with B.C.'s Ministry of Labour. As she recalls, the show started with some two dozen students. 
Each year since then, Cabaret has grown. The 2019 edition will see over 120 individuals perform in more acts than ever before. "Along with the classics – class-year dances, advanced and choreographed dances, and the ever-popular Bay Street Boys' number – we added a swing dance," says Kristin AuCoin, Law'20, 2018-19 QLCS co-president. For the fashion show segment, new lines are being introduced for athletic and formal wear. In addition, Queen's Law organizations taking part for the first time include the Law Students' Society executive members, who will present a creative video they made. 
"Of course, none of this would be possible without a dedicated team of volunteers who choreograph the numbers and find sponsors," says Erin Jamieson, Law'20, co-president of this year's QLCS. "We're so lucky to have a community of people at Queen's Law who are willing to put in the time and effort to support the cause." 
For the dancers, recruited in early January, the time and effort has involved at least two hours of rehearsal per week over the past two months, with some dances and models having multiple weekly rehearsals. "Cabaret is a grand production, and it would not be possible without the help of all the performers and the countless others involved in planning and putting on the show," says AuCoin. "It's amazing to see what law students are willing to dedicate to Cabaret on top of all their other work." 
How do this year's QLCS co-presidents feel about hosting the 12th annual Cabaret for a Cure, which has become the biggest fundraiser by Queen's Law students? 
"It amazes me that this event has been happening so long," says Jamieson. "When I started at Queen's Law last year, many people told me about how Cabaret was one of the best nights of the year. Once I saw my first show, I knew they were right!" 
"It is an incredible honour to be in charge of such a special, unique, and important event at Queen's Law," says AuCoin. "Cabaret for a Cure is an event that everybody at the school – students, faculty and staff alike – look forward to every year. It is a lot of hard work to put on such a big production on top of all our other commitments. However, it is well worth it when you get to personally contribute to this long-standing Queen's Law tradition and help raise thousands of dollars for such a worthy cause." 
Having raised a record $17,000 last year, this year's organizers set a more ambitious target of $20,000. 
Tickets are selling fast, but there is still time to purchase a seat for the March 14 show at the Grand Theatre in downtown Kingston. Jamieson and AuCoin guarantee their audience will have a good time and feel good about themselves for contributing to such a noble cause. "This event is a chance to have some amazing fun, cheer on your classmates, and bid on some rare items at a live auction," says Jamieson. "And the best part is, every penny of profit goes to the Canadian Cancer Society, funding life-saving and life-changing cancer research. You really could not pick a better event to support!" 
By Lisa Graham