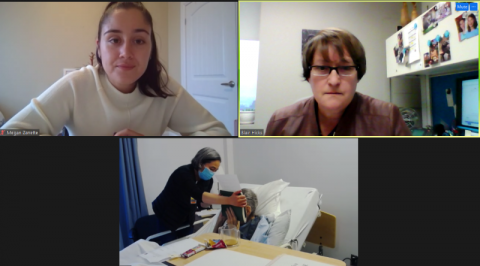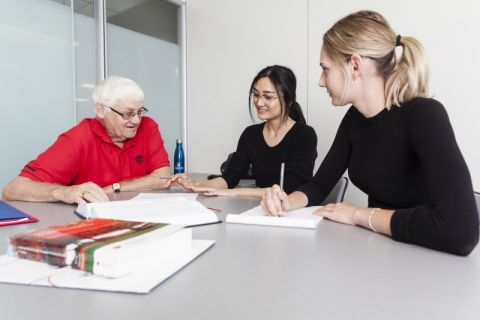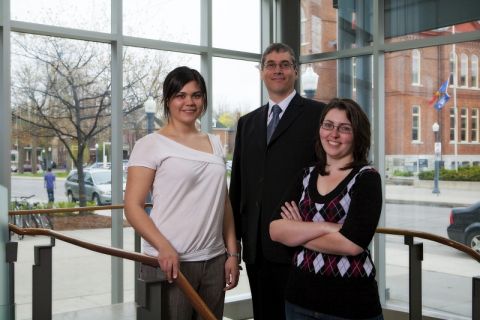 When the Queen's Elder Law Clinic opened for business in the fall of 2010, it offered five students a rare opportunity. Working with the clinic, the first of its kind at a Canadian law school, they not only gained practical experience in a burgeoning area of law, but also addressed a gap in legal services for seniors unable to afford a lawyer or unaware of their legal rights. 
As Professor David Freedman, the clinic's founding director, said at the launch, "Many older adults simply don't have the financial means to retain lawyers in respect of matters like making a power of attorney or knowing what to do when they are having difficulties in a long-term care facility." 
 
Since then, the demand for such pro bono services from low-income seniors in the Kingston area has risen dramatically, especially over the past five years. As a result, the number of students getting hands-on learning with elderly clients and the number of community organizations the clinic has partnered with have also seen big increases. 
To respond to the demand for services and experiential learning, Blair Hicks, QELC Director since 2017, was appointed to the clinic one year earlier in a new part-time Review Counsel position. "QELC operations have exploded since 2016 when the course ran with eight student caseworkers and a modest client waitlist," she recalls. "It now boasts 16 students serving the community each academic year, as many as three summer caseworkers, a roster of student mentors, and an often, daunting client waitlist." 
One of the greatest rewards from working with the QELC remains helping vulnerable senior citizens. "Our clients are beyond grateful for our free service, and also just for the simple act of connecting," says Hicks. Providing that much-needed assistance, in turn helps students hone their practice skills.
As a student caseworker, Robert Maratta, Law'15, drafted wills and powers of attorney documents for clients and gave several presentations to seniors on wills and access to health rights. "The QELC gave me my first experience as a lawyer assisting real clients," he says. "We often worked with those in the community who were less privileged or disabled. I learned that empathy and compassion for my clients was just as important as understanding the complexities of their legal matters." 
Now a corporate solicitor with Cunningham Swan Carty Little & Bonham LLP in Kingston, he reflects, "Being able to give-back to my community using the skills I was building as a student was very rewarding. It is still the part I love most about being a legal professional."
When John Siferd, Law'19, was a QELC caseworker, he advised on estate administration issues and prepared wills and powers of attorney. "The QELC's clients are some of the sweetest people around," he recalls. "It was a genuine pleasure helping them navigate estate administration issues and prepare their testamentary documents. I relished in the opportunity to engage with them directly during interviews and phone calls and hear their stories.
"I regularly assisted clients with varying physical and mental abilities ranging from poor eyesight and mobility problems to intellectual disabilities," he adds. "I learned to adapt to my client's personal circumstances in order to serve them in a way that suited their unique needs. In this way, the clinic helped ingrain an attitude of empathy that informs my practice today." 
Siferd, who summered and articled at the Office of the Public Guardian and Trustee, is now an associate in the Estates, Trusts and Charities Practice Group at WeirFoulds LLP in Toronto. "The QELC provided me with a solid base in client and file management," he says. "It especially instilled in me the importance of keeping careful and thorough notes of client meetings and interactions."
Over the past few years, the program itself has also expanded to include more services such as basic applications for certificates of appointment (probate), and more public legal education and community outreach. 
The clinic's first community partners, the Northumberland Community Legal Clinic in Cobourg, the Kingston Community Legal Clinic, and the Queen's Prison Law Clinic, were formed in 2016 under the directorship of Christian Hurley, now Director of Admissions and Education with the Law Society of Newfoundland and Labrador. The latter partnership – that expanded QELC services to federal penitentiaries to assist the growing number of incarcerated seniors and the aging prison population – is an example of the synergy that developed when all five Queen's Law Clinics co-located to downtown Kingston in early 2015.  
 
Local partners also include Kingston General Hospital, Providence Care, Kaymar Rehabilitation Inc., and long-term care facilities. "They routinely express their great appreciation for the unique service the QELC can provide for their patients (especially that students will, in a non-COVID year, see a client in their care facility)," says Hicks. 
The pandemic has generated even more opportunities for new outreach and public legal education connections, particularly to provide basic but essential information on the importance of wills and powers of attorney, and on the clinic's services. Melanie Fishbein and Sara Franklin-White, both Law'22, gave an online presentation to Kaymar's social workers and personal support workers. Through new partnerships, Allysa Ciancio and Erin MacLellan, both Law'22, presented virtually to a geriatrics class on dementia for the Queen's School of Nursing, and Milan Singh-Cheema, Law'21, and Austin Pammett, Law'22, recorded a video podcast for the St. Lawrence College Student Association. 
"Our clients generously provide consistently positive feedback directly to their student caseworkers for their personal service during the drafting process and also when their documents are finalized and the client's affairs are in better order," says Hicks. "For many seniors, accessing legal services is an intimidating process at the best of times. QELC students provide a professional, attentive, and welcoming setting for their clients to address their planning needs." 
In response to COVID-19, the Ontario government implemented a regulation allowing the remote execution of wills and powers of attorney. That enabled the QELC to assist clients, including a number in palliative care, effectively. "One recent client described the QELC's service as 'the miracle he'd been searching for,' at a time of particular need," says Hicks. "Student caseworkers have experienced first-hand the obstacles facing more vulnerable members of the community, and the immediate impact of their work during pandemic restrictions."
One of those students is Megan Zanette, Law'22. "Allowing clients to execute their documents from the comfort of their homes using videoconference platforms has provided extra peace of mind to them," she explains. "During the pandemic, this has eliminated a lot of stress and fear, as normally clients would have to come to the clinic to sign documents."
Zanette and her fellow caseworkers each carry about 10 files at a time, providing great variety in their work. "Practically, I am learning how to draft legal documents and better understand the law," she says. "I am also learning how to better communicate professionally and empathetically with clients, and provide catered legal services based on their unique situations – skills that will be foundational in my legal career and cannot be fully learned within a classroom. Beyond this, I am learning how valuable our work as lawyers can be in one's life, and how fortunate I am to be in the position where I can help others and serve my community."
After its first 10 years and amid a global pandemic, the Queen's Elder Law Clinic is still going strong in its dual mission to provide students with practical experience and address a gap in legal services for seniors. 
"Often, clients come to us anxious about the uncertainty of their futures, and without the QELC, would not be able to access the help they need and deserve," says Zanette. "As student caseworkers, we take pride in treating our clients with full respect and in helping them feel more comfortable and settled by planning for the future. This truly makes a difference in their lives and presents a really wonderful role to fulfill as a student."