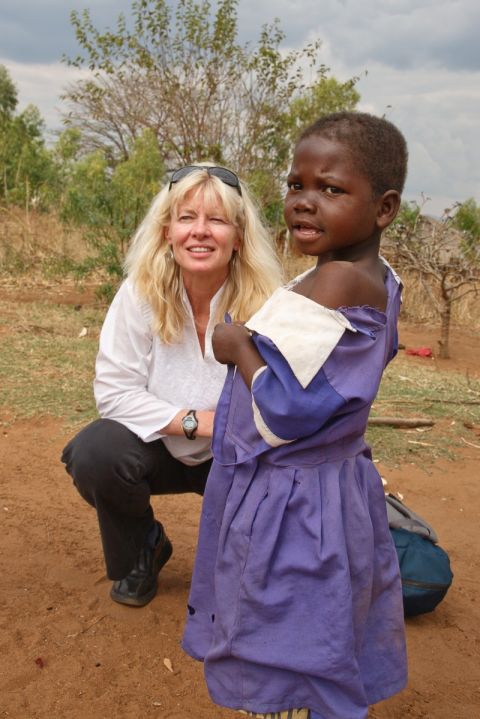 Fiona Sampson, OC, Law'93 (Artsci'85), winner of the Law Society of Ontario's 2018 Human Rights Award and many past accolades as a "Global Hero," will receive an honorary Doctor of Laws degree at the Spring Convocation for Queen's Law. 
She's the founder and CEO of the equality effect, a non-profit charity that uses international human rights law and creative legal advocacy projects to achieve systemic change and enforce consequences. In Canada and other Commonwealth countries, she is a highly respected advocate for the rights of survivors of sexual violence. 
Being awarded the university's highest honour, she says, "feels like an enormously meaningful validation of the human rights work I've done throughout my career – work that never actually feels like work – most recently with the amazing team at the equality effect." 
Leading that team to the landmark "160 Girls" High Court victory in Kenya six years ago is one of her greatest accomplishments.
A human rights lawyer with a PhD in women's equality law, she has also dedicated her career to seeking justice for Indigenous communities, refugees, and persons with disabilities. She has appeared before the Supreme Court of Canada representing various women's NGOs in equality rights cases. Recently, she completed a seven-year term as a Commissioner with the Ontario Human Rights Commission. As one of the last thalidomide victims born in Canada, she has an affinity with other disadvantaged persons that inspires her human rights work. 
She has published widely relating to women's and girls' equality and has received many awards and much recognition for her human rights work. In addition to the LSO Human Rights Award, she was appointed an Ashoka Fellow in 2013, and in 2014, was named one of the Top 25 Most Influential Lawyers in Canada by Canadian Lawyer magazine, one of the Top Five on the World Stage, and one of 50 "Global Heroes" working to end violence against children. In 2015 she was appointed as a Member of the Order of Canada.
Sampson's inspiring and distinguished career began at Queen's. "I attended Queen's Law, after doing my undergrad degree at Queen's in Politics, because I felt a connection with the values and priorities of Queen's Law – I was looking for an experience that would foster my keen (i.e. single-minded!) interest in human rights. Queen's Law nurtured my interest in creating change and empowered me to challenge discriminatory norms with purpose. The wisdom, insight and passion shared by the profs I had at Queen's Law, left an indelible impression on me, and are gifts that keep giving. 
"This honorary LLD provides a wonderful opportunity to express my gratitude to Queen's Law for those gifts," she continues. "It feels like an endorsement of the highest order, and fuels my commitment to keep creating change, and affirms that a Queen's education really is the gift that keeps giving."