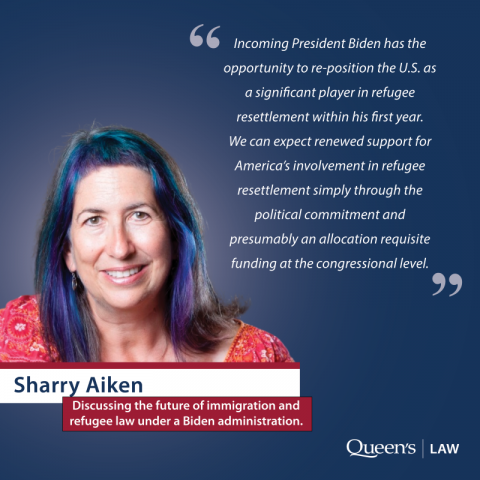 With the Biden inauguration dominating international news, six Queen's Law experts are stating their predictions for how the new government will have an impact on Canada and across the globe. In today's feature of the six-part series, Professor Sharry Aiken examines immigration and refugee law. 
Improving the rights and interests of migrants and refugees, but maybe not asylum-seekers 
Shortly after assuming office, President Donald Trump issued a number of executive orders that have had a devastating impact on migrants and refugees in the U.S. Many of those orders were policy directives that can be undone relatively easily. 
One directive is the rollback on overseas refugee resettlement, an area in which the U.S. had been the leading country, every year identifying and resettling thousands of refugees abroad into the U.S. with government support. Trump slashed that program in multiple ways. Incoming President Biden has the opportunity to re-position the U.S. as a significant player in refugee resettlement within his first year. Biden is on record stating that the ceiling on refugee admissions will rise to 125,000 from the low of 15,000 set by the Trump administration for the 2021 fiscal year. We can expect renewed support for America's involvement in refugee resettlement simply through the political commitment and presumably an allocation requisite funding at the congressional level. 
It's expected that the practice of separating families at the border will come to an abrupt halt. At least 5,400 migrant families have been forcibly separated in the past three years and many of these families have yet to be reunited. American border officials have long had the power to detain people arriving at the border and to identify them for various legal procedures depending on whether they're asylum-seekers or otherwise undocumented. Border officials also have the authority to put people behind bars, but we had never seen families being torn apart to this extent under previous administrations. Nothing inscribed in law endorses this practice, yet Trump mandated a policy of massive family separation, resulting in children being lost to their primary caregivers and trauma that is likely irreparable. This can also stop overnight, and Biden is on record saying he will ensure it does. 
We can also expect Biden will reinstate the program which allowed "dreamers" who were brought to the U.S. illegally as children, to remain in the country. In many cases, these children came to the U.S. when they were very young and have lived in the U.S. all their lives without status. The Dreamer's program ensured access to legal status and stability. Restoration of this program will be a step in the right direction. 
What's going to be much harder to deal with are the changes to U.S. asylum procedures made at a legislative level. The American asylum system has been under siege for decades and has been plagued with problems and significant deficits. While the system was well below international standards before Trump assumed office, his administration accelerated and intensified these deficits through legislative and policy changes. Despite Biden's aspirations, historically we've seen that regressive legal changes to deep-seated problems are rarely undone by successor regimes, so we're not likely to see significant improvements in America's asylum system. 
Professor Sharry Aiken specializes in immigration and refugee law and has appeared before the Supreme Court of Canada in a number of precedent-setting immigration cases. She is also the Academic Director of Queen's new Graduate Diploma in Immigration and Citizenship Law, Co-Editor-in-Chief of the Global Justice Journal, the former Editor-in-Chief of Refuge and a past president of the Canadian Council for Refugees.