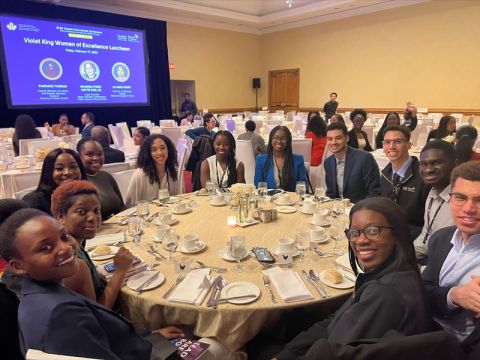 Students recognize Black Histories and Futures Month on campus and across the country
From mentoring to mooting and networking to profile-building, the Queen's chapter of the Black Law Students' Association (BLSA-Queen's) marked Black History and Futures Month in diverse and creative ways. Group members declared it an unqualified success. 
According to BLSA President Uche Umolu, Law'25, "It was a month filled with learning, collaboration, and celebration! While celebrating the Black icons that came before us, we got the opportunity to also celebrate ourselves and how far BLSA-Queen's has come as a group."
The month launched on campus with a panel discussion of "Black Histories: Remembering". Emceed by Dainelle Barham, Law'23, the event featured Kingston advocate for the African and Caribbean communities Judith Brown, and Lavie Williams from the Human Rights and Equity Office (HREO), which co-hosted the event. The HREO also organized, with the Yellow House Student Centre for Equity and Inclusion, a special screening and discussion of the 2021 film, Judas and the Black Messiah.
On Feb. 2, Law'23 students Jodeen Williams and Kate Dossetor, coached by Professor Lisa Kelly, represented Queen's at the Julius Alexander Isaac Moot. Organized annually by the Black Law Students' Association of Canada, the moot focuses on questions of racial and economic justice in law. It is named for the first Black judge to sit on the Federal Court of Canada, who went on to become its Chief Justice. (Read "Mooters engage in critical race theory.") 
Throughout February, the BLSA-Queen's Instagram feed featured Black icons and ended the month hosting an employment law session with a prominent Black alumna. Esi Codjoe, Law'03, named one of the Top 25 Most Influential by Canadian Lawyer magazine in 2018, described her journey through law school, her adjudicative experiences as Vice-Chair at the Ontario Human Rights Tribunal, her litigation experience in hospitals and with health professional clients, and her path to partnership with Turnpenney Milne LLP in Toronto.
Dainelle Barham, who facilitated a candid question-and-answer period after the presentation, found Codjoe to be "genuine, kind, and enthusiastic about her work and experiences. Like other attendees, I left the session with a greater appreciation and understanding of the vital roles that labour and employment laws play in our lives," she said.
A highlight of the month for 12 BLSA-Queen's students was attending the national conference of the Black Law Students' Association of Canada (BLSA Canada), held this year in Halifax. With a theme of "bending the moral arc toward justice," the four-day event featured panels on various areas of law, a career fair with employers from all practice areas, and a gala dinner celebrating Black leaders in the legal community, Black students, and BLSA Chapters from across Canada. 
Reporting that she left Halifax "energized and eager," Barham said, "It was humbling and exciting to see and meet influential Black trailblazers and changemakers, like Professors Maria Dugas, Joshua Sealy-Harrington, and Michelle Williams; social worker and race and culture-based reports author Robert Wright; and the Honourable Michael Tulloch, Chief Justice of Ontario. This conference was the extra boost of confidence and support that I needed, especially as I prepare to transition from the classroom to the courtroom."
For BLSA-Queen's President Umolu, interacting with other Black Law Associations from across the country and networking with "amazing law firms who put diversity at the forefront of their work" was a major takeaway. "Overall, this conference rejuvenated us," she exclaimed. "It provided a foundation that we can use to continue to elevate the Black Law Students' Association here at Queen's, and also as we begin our careers."
Noting that BLSA-Queen's has more than tripled its membership over the past year, Umolu added, "It is extremely inspiring to lead this wonderful group of young leaders, and we have so much more planned for the future."
By Nancy Dorrance