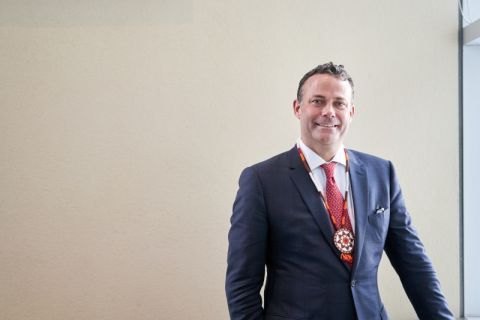 David Sharpe, Law'95, always looks on the bright side of life. "That's my nature," he says. 
However, being Indigenous, the Toronto-based businessman-philanthropist sometimes can't help but wonder if the Calls to Action in Canada's 2015 Truth and Reconciliation Commission's final report will be forgotten, as so many similar recommendations have been over the years. Sharpe is determined to do all he can to ensure that doesn't happen. 
A keen supporter of Queen's Law, he has given generously to establish and support initiatives that promote reconciliation, increase the number of Indigenous law students, and Indigenize both the law school and Queen's overall.    
Today, Sharpe has been named an Outstanding Philanthropist by the South Eastern Ontario Chapter of the Association of Fundraising Professionals, which is the main sponsor of National Philanthropy Day. The award honours those with a proven record of exceptional generosity who, through direct financial support, demonstrate outstanding civic and charitable responsibility and whose altruism encourages others to take philanthropic leadership roles on a community, national and/or international level.
Following two gifts to support Indigenous JD students ($50,000 for The David Sharpe Indigenous Law Student Award in 2017 and $100,000 to start the Douglas Cardinal Bursary in 2018), last year Sharpe gave $250,000 to launch the Chief Don Maracle Indigenous Knowledge Initiative (IKI). This summer he gave Queen's Law a valuable original artwork by renowned Ojibwa painter Norval Morrisseau (1931-2007).
"David is a person of action. He's one of those rare individuals who says, 'Let's do that. I'll fund it, and you run it,'" says Professor Mark Dockstator, the distinguished Indigenous scholar (Mohawk/Oneida) who is shepherding the IKI, a three-year initiative aimed at integrating traditional Indigenous knowledge and wisdom into the academic environment and developing connections between Indigenous and non-Indigenous students, scholars, and communities.
Since starting his IKI work, Dockstator has forged ahead with the consultative process in three areas: 
•    Engaging with a Queen's research team (including Wendy Phillips, Elder in Residence in the Office of Indigenous Initiatives) that's looking at COVID-19's impact on the transfer of Indigenous knowledge through ceremonial activities;
•    Joining in elders' discussions about creating a ceremonial space – a sweat lodge, perhaps – that Indigenous students, faculty, staff, and alumni visitors can access and that complements Queen's academic mission; and 
•    Creating and designing a portable outdoor art installation that involves the use of tipis (teepees), outdoor illumination, and the decorative painting of the tipis' winter liner – all to symbolize and reflect the transmission of Indigenous knowledge in traditional and contemporary forms. "The idea is to show that Indigenous knowledge isn't found only in written and oral forms," Dockstator explains. "It's also found in artistic expression. Sometimes it's found outside; sometimes inside, in a tipi or some other structure. Similar to the wampum belt art that hangs inside the law school atrium, the tipi art installation will be a powerful reminder that it's important to keep transferring this knowledge from generation to generation."
Morrisseau's Mishipeshu (Great Lynx) painting that David Sharpe donated to Queen's Law is yet another example of how an Indigenous artist can share and pass down ancestral knowledge and traditions. "Norval Morrisseau expressed Indigenous knowledge through his art," says Dockstator. "What David is trying to do with the IKI is similar to what Morriseau did with his paintings."    
By Ken Cuthbertson