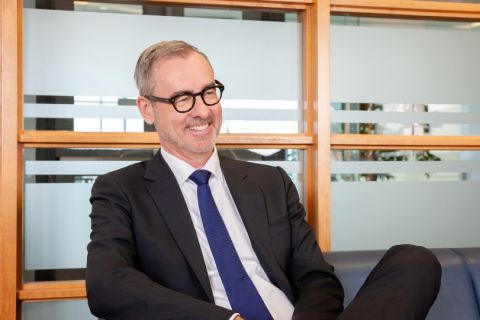 Bill Flanagan steps down after a record-breaking 14-year tenure, 2005-2019. 
Visionary. Transformative. Innovative. Inspirational. These are just a few of the leadership qualities most commonly ascribed to Dean Bill Flanagan by members of the Queen's Law community. 
Before his third and final decanal term comes to a close on June 30, he shares his thoughts on the many people he has engaged with, milestone events that occurred, significant initiatives taken, and on his plans for the next stage of his distinguished career. 
As your tenure as Dean comes to an end, what would you like to say to or about alumni, students, faculty and staff?
I've always been impressed with the connection our alumni feel to their alma mater and how deeply they care about the experience of our current students. It is clear to me that their time here was transformational in their lives; they remember the school fondly, whether it's 10, 20 or 50 years since they graduated. We're fortunate to have a devoted alumni base and one that remains so generous in their support of the school. I'm very grateful to our graduates for their support over my past 14 years, and I have no doubt they'll continue to support the school and my successor as Dean.
Students are at the core of what we do at Queen's Law, and we've always been fortunate to have great student leadership. It's been a privilege to work with such young, ambitious, energetic and talented students who care deeply about the school. We're not a commuter school. Because our students all live close by, the school is the focal point of their experience while at Queen's. Our students remain remarkably engaged, not only in their academic work, but also in the life of the faculty and university. 
We're also fortunate to have a terrifically talented faculty and staff – the lifeblood of the law school. It's been a great pleasure to work so closely with them. Our faculty members are renowned scholars and teachers, all very dedicated to the school. Our staff, who do a lot of the unsung work, are really the backbone of the school. Queen's Law has always been extraordinarily fortunate to have staff members who are so dedicated to the well-being of our students, and I think our students are most grateful for this support. 
One of the other great privileges of being Dean is having had a role in recruiting a remarkably talented group of young professors, expanding our faculty complement by 25 per cent since 2017. This great infusion of new talent has brought a rich and diverse range of scholarly interests to the school. I'm proud to say that the quality of our incoming new faculty has never been higher in the 62 years since the school was founded.
Of all your significant accomplishments as Dean, what makes you most proud? 
I'm most proud of how innovative we've been in thinking beyond the traditional confines of what a law school can do. I call this "Beyond the JD" – that is, thinking beyond the JD program. The JD will always be core to what we do and will remain the pillar of the law school. But the opportunities for growth are outside the traditional JD program, and on this front Queen's Law has been a clear national and international leader. 
This innovation began in 2013 with the idea of teaching one course, Introduction to Canadian Law, to Queen's undergraduate students. We promoted the course as of interest not only to undergraduate students interested in going to law school, but also a wider range of students on the basis that a certain degree of legal literacy is valuable, no matter what a student's career path might be. The course was an instant success and we discovered a huge appetite among undergraduate students to study law. 
We then decided to expand to four courses and in 2016 launched our Undergraduate Certificate in Law program – all online and available to students across Canada. That first course six years ago has now grown to seven courses in 2019 with over 2,000 students registered in one of our undergraduate courses this year.
Our second "Beyond the JD" initiative is our Graduate Diploma in Legal Services Management, opened for enrolment just this April. Again, this is a cutting-edge program aimed at providing training in key business skills for today's lawyers. It takes the core skills of an MBA program, including topics like financial literacy and business strategy, condenses them and focuses on the delivery of legal services. This unique skill set is aimed at enabling our graduates to thrive in a rapidly changing legal profession. Like the undergraduate certificate, it's all online. 
The challenges and opportunities posed by a rapidly changing environment for the delivery of legal services is a theme common not only across Canada, but throughout the common law world. I think this program has the potential to attract law students and young lawyers not only across Canada, but in other jurisdictions as well. There's no law school that I know of in the common law world that has a program of this nature. 
Building on the Graduate Diploma in Legal Services Management, I am thrilled that the law school has recently signed an agreement with the Immigration Consultants of Canada Regulatory Council (ICCRC) to develop an online graduate-level training program for immigration consultants. As the sole authorized English-language provider, Queen's Law will launch its new Graduate Diploma in Immigration and Citizenship Law in January 2021. This program will greatly enhance the quality of immigration consultant services available in Canada. We are projecting that over 500 students a year will enrol in this program, placing Queen's Law again on the forefront of online legal education and thinking broadly and creatively about what a law school can do. 
I think the potential remains for Queen's Law to continue thinking about online education and further opportunities "Beyond the JD." Kingston is a lovely place, but it's a smaller city. If we're to have the kind of reach that we want as a law school, online provides us with endless opportunity. I think it's now fair to say we're not only Canada's clear leader in the delivery of online legal education, but we're really a leader around the world.
I'd like to be remembered as a Dean who was able to preserve our strong traditions and at the same time explore exciting new frontiers for the school.
In addition to that, what would you like your legacy to be?
I hope that my legacy will be one that built on the traditional strengths of Queen's Law: a great sense of community, outstanding scholarship and teaching, and student engagement in the life of the school. While always keeping those core strengths in mind, I'd like to be remembered as a Dean who also thought large about what our law school can be, not only in terms of scholarship and teaching, but also in terms of extending the reach of legal education to include undergraduate students, core business skills for lawyers, immigration consultants, and more. I'd like to be remembered as a Dean who was able to preserve our strong traditions and at the same time explore exciting new frontiers for the school. 
What's next for Bill Flanagan?
Bill Flanagan's going to take a bit of a break [chuckle]. Although it's been a great privilege to serve as Dean for 14 years, it's a demanding role, and I am looking forward to a return to some of my own research interests. I'm taking a research leave and going abroad for awhile. Despite a bit of distance, I'll still have great interest in the well-being of Queen's Law and I look forward very much to following news of the school and, of course, the success of our new Dean. 
What are your thoughts on incoming Dean Mark Walters? Any advice for him?
I think Mark is a wonderful choice as my successor and I'm delighted that he's returning to Queen's Law. He's a graduate of this school and was a member of the faculty for 17 years, so I have known him for most of my 28 years here at Queen's. I have no doubt that he will thrive in the role as Dean, and to any extent I can, I'm more than happy to help. The deanship will be a bit of a steep learning curve for Mark – it certainly was for me when I started out 14 years ago – but I've told him how fortunate he is to have a terrific staff and faculty in place. I think the school is very well placed for the transition and I have no doubt it will continue to thrive under his leadership.
Queen's Law Milestones under Dean Flanagan's Leadership

2008 

PhD in Law program launched 

2009 

Queen's Business Law Clinic established

2010 

Centre for Law in the Contemporary Workplace opens – a Canadian first
Elder Law Clinic established 

2013

Introduction to Canadian Law course (LAW-201) offered to 300+ undergraduate students

2014

Family Law Clinic established 
First blended learning course (classroom + online) offered 

2015

David Allgood Professorship in Business Law established – first privately funded
Robert Sutherland Fellowship opens to Caribbean graduate students

2016

The five Queen's Law Clinics (Legal Aid, Prison Law, Business Law, Elder Law, Family Law) are co-located in downtown Kingston
Renovated Macdonald Hall opens Learning Commons  
Joint BCom/JD program launched
Undergraduate Certificate in Law program launched online to bachelor's degree students and graduates across Canada. By 2019, seven courses offered and over 2,000 students

2017

Stephen Sigurdson (memorial) Professorship in Corporate Law and Finance established
Online Undergraduate Certificate in Law launched – a Canadian first

2018

Indigenous artwork 'words that are lasting' installed in Queen's Law atrium

2019

Online Graduate Diploma in Legal Services Management launched – another Canadian first 
60% of faculty hired in the last 14 years – current faculty complement of 37 represents a 25% increase since 2017
Graduate Diploma in Immigration and Citizenship Law announced, to be launched in January 2021