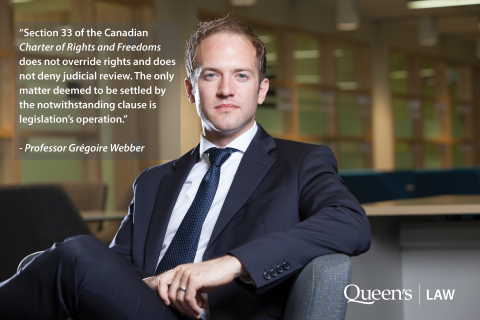 In recognition of Law Day, a national event held every April to celebrate the historic signing of Canada's Charter of Rights and Freedoms, Queen's Law reflects on the enduring legacy and contemporary significance of the Charter through a brief examination of one of its most contested articles, Section 33, better known as "the notwithstanding clause."
In a recent installment of the Queen's Law Lecture Series, Professor Grégoire Webber, Canada Research Chair in Public Law and Philosophy of Law, delivered a talk entitled, "Notwithstanding What? On the Charter's Notwithstanding Clause and the Judicial Review of Legislation." He has written on Section 33 in Policy Options and in the University of Toronto Law Review. 
As we know, the declaration of the Charter marked a pivotal and defining moment in Canada's national identity, enshrining democratic, equality, legal, linguistic, mobility and educational rights, and informing a critical aspect of how we govern and legislate as a country. 
In the nearly 40 years since its creation, the Charter has become one of the most recognized symbols in Canada, and is one of the few (if not only) legal documents to have ever travelled beyond the Earth's orbit, as Canadian astronaut Marc Garneau once took a copy of the Charter with him on a space flight.  
Since coming into force in 1982, the Charter has been invoked on pressing social issues, like religious neutrality, reproductive rights, medical assistance in dying, safe injection sites, policing powers, and many more. 
Despite only a small number of judicial references to Section 33, a number of provincial and territorial governments and legislatures have invoked the notwithstanding clause, triggering debate among parliamentarians, jurists, constitutional theorists, and the greater public. 
Section 33 itself was a late addition to the constitutional accord before the Charter's historic signing, and served as a concession to a fairly vocal contingent of premiers, who feared that the powers given to the judiciary by the Charter were too sweeping. 
In his recent talk, Webber provided a detailed look at Section 33, which has often been described, including by the Supreme Court of Canada, as an "override provision" that notionally enables legislation to override Charter rights and freedoms. But does it? To date, Quebec, Saskatchewan, the Yukon, and Alberta have all made Section 33 declarations with varying levels of success. 
To frame this discussion, Webber looks at two fairly recent examples, those of Quebec and Ontario. In Ontario, Premier Doug Ford signalled the use of Section 33 in 2018 after the Superior Court of Justice ruled against the Better Local Government Act, which sought to change the electoral districts in the City of Toronto within an election period. The court found that the reduction of the size of the Toronto city council after the election campaign had begun was a violation of freedom of expression in the Canadian Charter of Rights and Freedoms.
In response to this, as described by Webber in his talk, Ford "undertook to have the Legislature of Ontario re-enact the legislation by invoking Section 33 of the Charter." While in the end there was no need for the legislation to be re-enacted, as the Ontario Court of Appeal stayed and then overturned the Superior Court's ruling, this moment was particularly noteworthy, as Premier Ford indicated publicly that he would not hesitate to use this clause in the future.  
To Quebec: in early 2019, the provincial government was moving forward with its plans to develop legislation on the laicity of the state. As described in Webber's lecture, the proposal was to "prohibit certain persons exercising authority on behalf of the province from wearing religious symbols, persons including police officers, Crown prosecutors, and teachers, and to require persons seeking public services to do so without a face-covering in certain circumstances."
In the face of mounting criticism that the proposal would violate freedom of religion, freedom of expression, and the right to equality, Premier François Legault explained in March 2019 that his Government would invoke the Charter's notwithstanding clause so as to "éviter les longues batailles juridiques" ("avoid lengthy judicial battles").
Bill 21 (An Act respecting the Laicity of the State) came into force in June 2019, and included a declaration under the notwithstanding clause. However, despite the Premier's intention to avoid judicial battles, the first constitutional challenge to the legislation was initiated within 24 hours after it came into effect. 
Webber argues that much of the received wisdom on Section 33 is mistaken. He describes two perspectives based on what constitutional lawyers might interpret a legislature achieves by invoking the notwithstanding clause. In the first instance, a lawyer might say it makes exception to targeted rights and freedoms by overriding or suspending Charter rights. 
The second perspective is that that notwithstanding clause makes exception to judicial review. On this view, a lawyer might say that the clause insulates legislation from constitutional challenges in the courts.
Noting how neither reading of the clause aligns with its wording, Webber instead proposes "a third and novel reading of the notwithstanding clause," one focused on the key word in Section 33: the "operation" of legislation.
Webber provides an analytical exploration of the "operation" of legislation, by reviewing the parliamentary supremacy of pre-Confederation statutes and foundations of English law, subsequent statutes that governed Canada as a dominion, leading to the Charter in 1982, and how these successive constitutional documents informed constitutional jurisprudence that settles the meaning of legislation's "operation." 
Drawing on this constitutional history, Webber says that Section 33 "does not override rights and does not deny judicial review. The only matter deemed to be settled by the notwithstanding clause is legislation's operation."
Webber indicates that if his interpretation of the notwithstanding clause is correct, "it is wrong to say that the clause overrides rights and it is wrong to say that it blocks judicial review."
Conversely, he says, "it is right to say that claimants can go to court and the court can declare legislation inconsistent with rights and freedoms and, because of such inconsistency, invalid and void." Despite being invalid and void, legislation would continue to "operate" so long as the notwithstanding cause is in effect but would cease to "operate" immediately after.
Webber draws an analogy to many Commonwealth countries like the United Kingdom, New Zealand, and various Australian jurisdictions, all of which "make it explicitly clear that the continuing operation of legislation is not affected by a judicial declaration of incompatibility" between legislation and rights and freedoms.
While it would be an "unusual position under the Canadian Charter for legislation to be found inconsistent with Charter rights and freedoms and yet, despite such a finding, to continue to operate, that is the normal course of things in the United Kingdom, New Zealand, and several Australian states."
Webber concludes that in the Charter's nearly 40 years of existence, no court has conclusively addressed the meaning of Section 33, let alone settled it. But the recent challenge to Bill 21 before the Quebec Superior Court provides a first opportunity for a court to determine whether the "operation" of legislation is the only thing secured by a legislature when Section 33 is invoked.
Professor Grégoire Webber is Canada Research Chair in Public Law and Philosophy of Law at Queen's Law, cross-appointed to the Department of Philosophy, and Visiting Fellow at the London School of Economics and Political Science. He is joint convenor of the Queen's Colloquium in Legal and Political Philosophy.
Find out more about Law Day and Ontario-based celebrations by visiting the Ontario Bar Association' s website.
Learn more about Queen's Law's constitutional and public law expertise. 
Stay connected with Queen's Law and our speaker series by following the Queen's Law events page.
Watch this video filmed on April 17, 1982, as Queen Elizabeth II and Prime Minister Pierre Trudeau sign the Constitution Proclamation, bringing the Constitution home and enacting the Charter of Rights and Freedoms that would guarantee fundamental rights and freedoms for all Canadians.