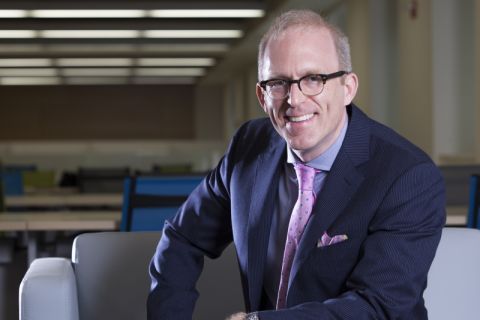 If a soldier fails to lawful obey orders or to disobey unlawful orders, it's a crime. Does that mean the soldier must always be perfectly legally correct in strained circumstances? Is there some allowance for error? If so, how much?
That's one type of problem Professor Darryl Robinson explores in his new book, Justice in Extreme Cases: Criminal Law Theory Meets International Criminal Law. 
"International criminal law (ICL), which deals with mass atrocities, was created hastily over the past two decades," he says. "While it was an achievement to create this body of law so quickly, some aspects might not be well thought through or might not be fair."
In his book, published by by Cambridge University Press in December, Robinson argues that criminal law theory (which looks at underlying moral principles) can help reform ICL. "Criminal law theory has helpful concepts and debates that can clarify the law and make sure it respects fundamental principles," he explains. 
"But the conversation can go in both directions – ICL might enrich criminal law theory!" he continues. "ICL encounters difficult, new, and special situations that raise new puzzles for mainstream criminal law theory to think about. Quite often, thinking about a new puzzle leads to new insights."
In addition to the soldier's response to orders, Robinson's book sheds light on other types of puzzles, including these scenarios. 
While three people who rob a bank in Canada can be held jointly criminally responsible, what happens if 1,000 or more people are involved in a mass atrocity? Is each person equally responsible for everything, or do we have to figure out with more care what exactly they're responsible for? 
In the military, a commander has a duty to supervise troops and prevent them from committing crimes. When can the commander's failure to do this lead to shared responsibility for the resulting crimes? 
Robinson refers to "extreme cases" in ICL not only in the sense of the scale of atrocity, but also scientifically. "Studying extreme situations, such as mass coordinated crimes, breakdown in rule of law, or states issuing criminal orders, can help us discover new things," he explains. "Thinking about justice in these special situations can inform our ideas about justice."
As for principles of justice, Robinson says, "Normally writers take either a 'black letter' doctrinal approach, which draws from precedents and authorities, or a philosophical approach, which draws some master moral theory." 
What his new book does is take a middle path. "I talk about principles implicit in the practice and which are supported by multiple moral theories," he explains. "Ultimately, justice is a human idea, refined through a human conversation."
Robinson's manuscript was the subject of a roundtable event in Philadelphia, hosted by Temple University in Philadelphia last February. Leading North American scholars in the field gathered to discuss the ideas, with a published symposium to follow early this year.