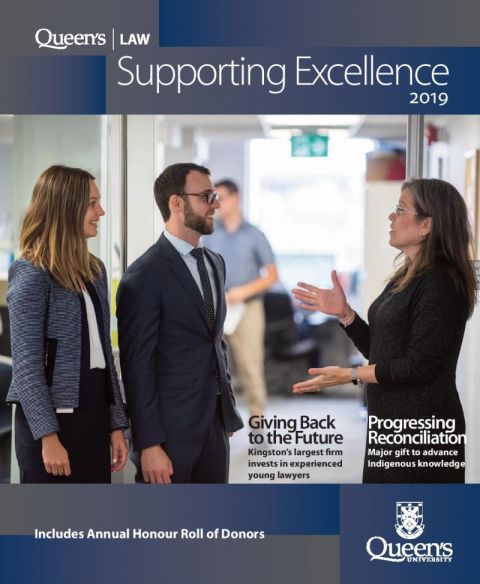 From expanding clinical opportunities to drawing the Queen's and Indigenous communities together, alumni and friends continue to make the law school an even better place for students of today and tomorrow. The newly released issue of Supporting Excellence highlights the school's latest successes made possible from the generosity of benefactors. 
Major features in the 2019 issue include: 
Giving back to the future: Cunningham Swan celebrates its 125th anniversary by investing $125,000 in the Queen's Law Clinics, cementing the firm's commitment to their common goal: facilitating access to justice in the Kingston community.
Progressing reconciliation: A $250,000 gift from David Sharpe, Law'95, will draw the Queen's and Indigenous communities closer together through a campus-wide Indigenous Knowledge Initiative. 
Flanagan's forte feted: Alumni and friends contributed over $520K to celebrate Bill Flanagan's 14 decanal years of transformative leadership, establishing an international studies award in his name. 
A long relationship becomes lasting: Through a planned gift of life insurance, former justices George Thomson, Law'65, and his wife, Judith Beaman, Law'75, will leave a "public" legacy.
Immersing students in Israeli law: Thanks to a $250K endowment from Jeremy Freedman, Law'82, students have support to spend a term on exchange with one of Israel's premier academic institutions.  
Professorship holders boost business law: Rob Yalden, our Sigurdson Professor, is already a corporate law catapult after only one year on faculty. Mohamed Khimji, in his fourth year as our Allgood Professor, is building business law bridges. 
The magazine also recognizes new major lifetime benefactors and the school's annual Honour Roll of Donors. 
Dean Mark Walters, Law'89, who began his decanal appointment on July 1, says to alumni and friends, "As a newcomer to the role of dean, I'm privileged to have a view of the Faculty that shows how important your support is, and how valued it is, as an essential part of our operations. Every page of this magazine is a testament to our school's ongoing success, thanks to your generosity and commitment to its ongoing excellence."
Check out Supporting Excellence 2019 on the Queen's Law website!