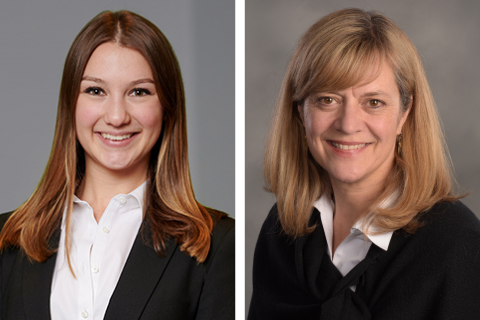 "When I started law school, it became clear to me that women lawyers and law students face unique, gendered barriers to leadership positions in corporate law," says Beth Burnstein, Law'20. "As an aspiring lawyer, it was important to me to challenge these sorts of issues." 
Burnstein and fellow alumna Cheryl Foy, Law'93 (Artsci'88), are both winners of 2020 awards presented by the Women's Law Association of Ontario (WLAO).  
For demonstrating great leadership and drive in law school, Burnstein received the Torkin Manes LLP/WLAO Trailblazer Award. Chief among her school activities was her work as co-president of Queen's Women and Law (QWL). "I believe that strong women-to-women mentorship is essential to promoting women in business, so I planned events with that specific goal in mind," she says.
That included helping to plan and host the 2017 visit of then-Chief Justice Beverley McLachlin and later spearheading the first Women in Corporate Law Career Panel. "My goal was to address issues relevant to women practising law and open a dialogue about specific challenges women face as lawyers," Burnstein explains. "Moreover, we discussed strategies these lawyers had adopted to help them excel in corporate law." 
Helping to make the law school an environment where women students could excel academically was also important to Burnstein. During her co-presidency, QWL hosted discussions between students and professors that explored barriers to education and challenges that women students face. "We brainstormed strategies to overcome such challenges and then determined ways to implement them," she says. "I believe these events help promote women's participation and comfortability in the law school, and in turn make our community stronger."  
Burnstein's passion for promoting women in business and leadership began after completing her undergraduate degree. She spent six months in rural Kenya assisting a lawyer in a legal aid research trial that assessed the impact of free legal aid on subsistence farmers' economic output. "I took a particular interest in how legal aid might impact women in the community, and I helped develop seminars for women's groups on will-drafting, tenants' rights, and contract law," she explains. "I applied to law school with an interest in how the law might be used to counter gender disparity both internationally and here at home." 
Now a newly minted Queen's Law grad who will be articling with Cassels Brock & Blackwell LLP in Toronto this September, Burnstein reflects on her law school experience. "Queen's Law is tremendously supportive of student initiative," she says. "As a member of student clubs, I felt encouraged to plan events and programs that I believed would benefit students and foster a stronger Queen's Law community." 
Cheryl Foy, Secretary and General Counsel with Ontario Tech University, is this year's winner of the WLAO General Counsel Chapter Award for her leadership role and commitment to the success of women in law.
"While I am truly grateful for the award, my true reward has come from the work itself," says Foy. Some of that work is with Women General Counsel Canada (WGCC), an organization she co-founded in 2013. Since then as a member and as president, she has been supporting women GCs to be, and inspiring younger women to become, great legal leaders. 
"The women who I have worked with to build WGCC continue to inspire me with their energy, their ability to get things done, and their commitment to positive change," she says. "I value deeply the relationships that I have developed with WGCC members – that's what it's all about." 
One of the reasons Foy stayed involved with the organization was to help build the Women General Counsel Canada Network into a national group to support the women who are in GC roles and to ensure strong women leaders are being developed to succeed them. "I am an opponent of arbitrary barriers and work hard to remove them to allow people who should succeed to succeed," she explains. "This is the essence of inclusion – the removal of barriers. I try do this in my role as a GC and I participate in WGCC to do the same thing on a larger scale."
Foy's work doesn't stop with women. "I am actively thinking now about what more I can do to fight all forms of racism," she says. 
To women law students and young lawyers, Foy shares this advice: "Stick it out. The first five years are very difficult. The work is hard and the profession competitive. In addition, women confront lookism, racism, sexism, and misogyny on a regular basis. However, there's also tremendous support within the profession and I continue to believe our profession is both honourable and necessary. As we see the world around us changing in a negative way, lawyers are uniquely positioned to advocate for the rule of law and for just, inclusive societies. This work can be done in all kinds of legal roles.
"Oh, and think about becoming an in-house lawyer," she adds. "It's an amazing role with a broad scope to influence organizations to progress in very positive ways!" 
By Lisa Graham