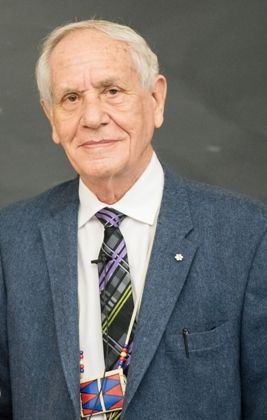 Douglas Cardinal, visionary designer, activist, philosopher, artist, and one of Canada's foremost architects will receive an honorary degree on June 6 at spring convocation ceremonies for the Queen's Law Class of 2018. 
"It's a special honor to be receiving an Honorary Doctor of Laws from Queen's given that it is one of the top universities in Canada, and in particular has such a strong reputation for its Faculty of Law," says Cardinal. 
"It's my privilege to be included among an alumni community that includes outstanding Indigenous professionals who are making major contributions to their communities and to First Nations."
In recent years, Cardinal has been a friend to Queen's Law through his involvement in various aspects of the Faculty's Indigenous outreach efforts, including being an honoured guest at the national Kawaskimhon Moot in 2016 and providing insight as a key member of a selection committee that chose a piece of Indigenous installation art to be integrated into the Faculty's atrium later in 2018. 
The Faculty is also honouring Cardinal through a bursary in his name. Established with a $100,000 gift from Law'95 alumnus David Sharpe, and matched from Faculty funds, the Douglas Cardinal Bursary will provide financial support to Indigenous students in any year of the JD program.
Sharpe, a Mohawk of the Bay of Quinte, member of the Dean's Council at Queen's Law, established the bursary in recognition of a national figure he considers both an inspiration and a friend. "I've been privileged to know and work with Douglas in a number of ways, both related to education through Queen's Law and First Nations University, and also in relation to my work helping finance Indigenous community develop through my company, Bridging Finance," he says. "Establishing a bursary to inspire and support future Indigenous legal scholars seems like a fitting way to celebrate his work and pay tribute to his legacy as an Indigenous figure of international renown."
Calgary born, Cardinal attended the University of British Columbia in his youth prior to graduating from the University of Texas School of Architecture in 1963. He began winning critical acclaim and awards for his designs not long after launching his career. That success has continued ever since, for Cardinal's approach to architecture is both innovative and unique. As he explains, "Without any preconceptions, I evolve a design from the inside out, open to all possibilities." 
Cardinal is renowned for creating the smooth, curvilinear architectural designs that have come to embody an Indigenous style of Canadian architecture. Throughout the 1990s, he led the way in providing architectural definition to the aims and aspirations of Indigenous communities across North America. 
Among the many well-known, critically lauded buildings he has designed are the Canadian Museum of Civilization (now called the Canadian Museum of History) in Gatineau, Quebec; the Meno Ya Win Health Centre in Sioux Lookout, Ontario; and the Aanischaaukamikw Cree Cultural Institute in Oujé-Bougoumou, Quebec, which earned a United Nations Award of Excellence for sustainable designs and was celebrated at Expo 2000 in Hanover, Germany. 
Cardinal has received numerous national and international awards, including 20 honorary doctorates, Gold Medals of Architecture in Canada and Russia, and an award from the United Nations Educational Scientific and Cultural organization for his design of the Best Sustainable Village. He was also appointed an Officer of the Order of Canada in 1989, and in 2006 declared "World Master of Contemporary Architecture" by the International Association of Architects. 
"I grew up in Alberta and first came to know of Douglas Cardinal's visionary work when in the 1970s my family attended St. Mary's Church in Red Deer, Alberta, one of Cardinal's earliest works and one that remains among his most influential," says Dean Bill Flanagan. "At the time, the church – with its remarkable curves and dramatically unadorned interior – was a complete mystery to me, as I had never seen anything like it before. But it was a mystery that spoke deeply to me as a young boy and sparked a life long interest in the work of this remarkable man."
"It has been a great honour to come to know Douglas Cardinal over the past few years" adds Dean Flanagan. "This honorary degree and the Cardinal Bursary are but small ways in which we can recognize his extraordinary contributions to public life in Canada and beyond. This recognition also furthers the Faculty's commitment to honour Indigenous peoples and deepen the Faculty's appreciation and understanding of Indigenous cultures."
By Ken Cuthbertson