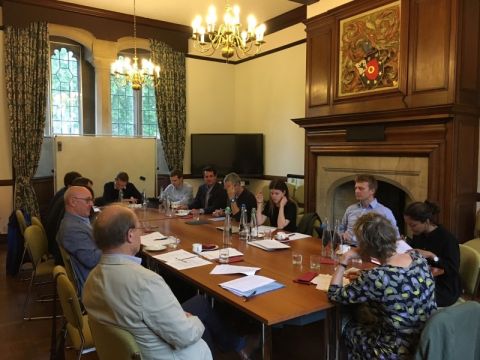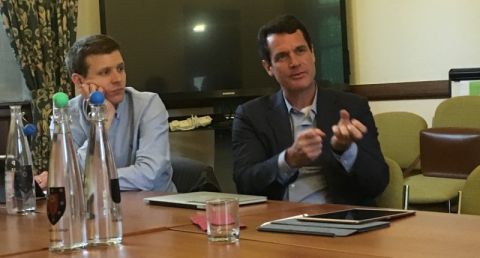 "The Queen's powerhouse in Law, Philosophy and Politics was in full force at the Oxford-Queen's workshop with a full roster of outstanding papers from scholars at both universities and stimulating, engaged discussion," says Christine Sypnowich, Professor and Department Head (Philosophy). She's referring to the first multidisciplinary workshop between the two universities that was held at St. John's College in Oxford on June 10. 
"As a testament to the overlapping nature of the three disciplines, the discussion over each paper was rich, with active participation from all," says Professor Grégoire Webber, Canada Research Chair in Public Law and Philosophy of Law.
Speakers from both Queen's University and the University of Oxford discussed a range of topics throughout the day from "Authentic Interpretation" to "Law and the Socialist Ideal" and "Justifying the Right of Return." 
"A diversity of topics that came together beautifully as the different themes were built on and challenged throughout the day's sessions," says Sypnowich. "Looking forward to next year's deliberations!"
In addition to Professors Webber and Sypnowich, Queen's University speakers and discussants included:
•    Professor Les Green (Law)
•    Professor Andrew Lister (Political Studies)
•    Professor Margaret Moore (Philosophy)
•    Professor Ashwini Vasanthakumar, Queen's National Scholar in Legal and Political Philosophy (Law)
Also present was Professor Mark Walters, Law'89, who was a faculty member at Queen's Law for 17 years before leaving in 2016 to take the position of F.R. Scott Chair in Public and Constitutional Law at McGill University. He returns to Queen's as Dean of Law on July 1.
The Oxford-Queen's workshop is made possible by the generous support of the Programme for the Foundations of Law and Constitutional Government, and the Canada Research Chair in Public Law and Philosophy of Law. The workshop was co-organized by Professors Vasanthakumar and Webber of Queen's Law, and Professor David Miller and Law Fellow Richard Ekins of the University of Oxford.
Also building on the close connections that exist at Queen's between the Departments of Philosophy and Political Studies and the Faculty of Law is the Graduate Program in Political and Legal Thought. The only course of study of its kind in Canada, this 12-month collaborative degree program allows students to specialize in social, political and legal theory. 
Learn More about the Graduate Program in Political and Legal Thought.